Festival of Lights 2018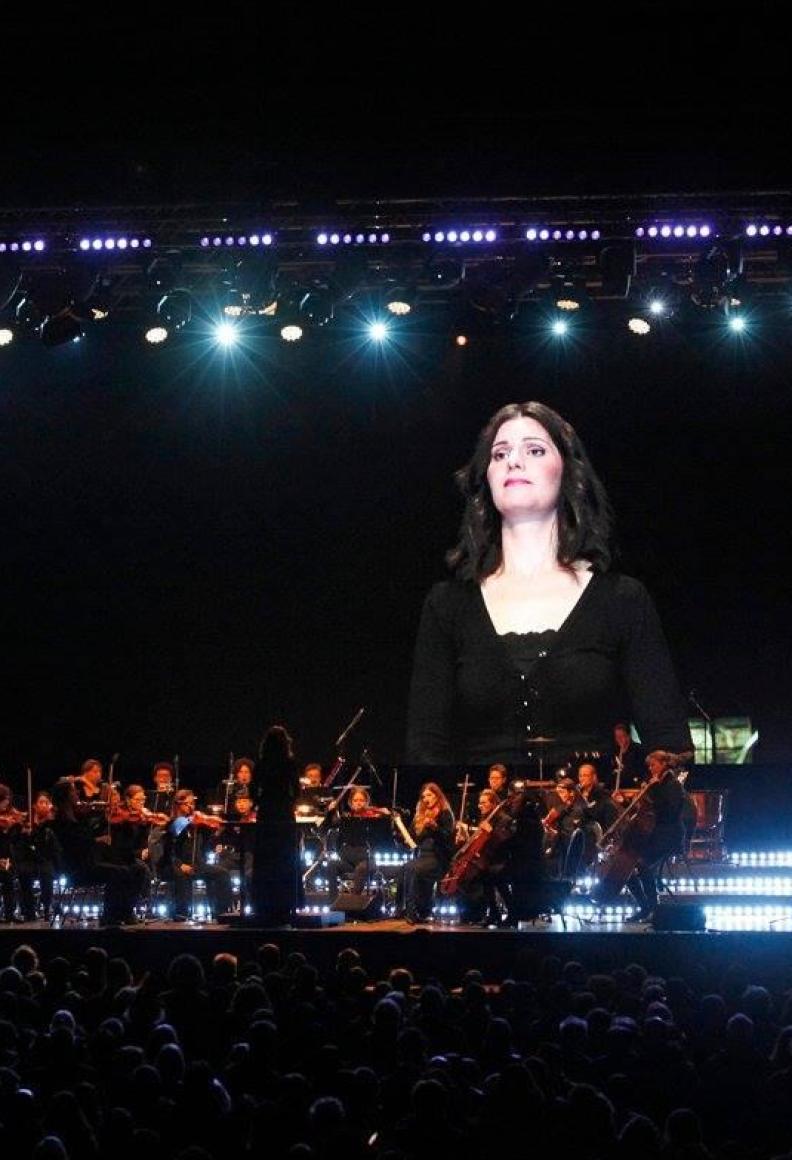 "Powerfully and demandingly the womens' voices were heard on the Augustusplatz: "We will interfere. We will take part. At this country. Our way."
With those strong words the 10th Festival of Lights Leipzig ended. The Augustusplatz as the historical place where the demonstrants met 1989 was again the stage for this year's commemoration and celebration of the Peaceful Revolution. During 1 hour the performance connected music, words and video into an impressive production, which had the focus of "taking part" and especially women in society and arts. For that reason the stage 2018 was an all-female one.
Chief conductor Eva Meitner directed the 24 women musicians of the Freies Orchester Leipzig with sovereignty through a programme which was mostly composed by female composers, among them also the world premiere of Susanne Hardt's "Ballots' ballet", which she wrote on behalf of this year's Festival of Lights. Her piece integrated lightly and playfully into the rhythm of the whole evening. Whereas the composer Moritz Eggert's work "Masse" fitted in perfectly as shaking "interferences" between the single episodes. The audience thanked the musicians with a lot of spontaneous applause and impulsive bravo-calls."
(c) LTM 2018
http://www.lichtfest.leipziger-freiheit.de/news/lichtfest-2018-setzt-starkes-zeichen-fuer-teilhabe-aktuell.html

Konzept «Weibliche Bühne»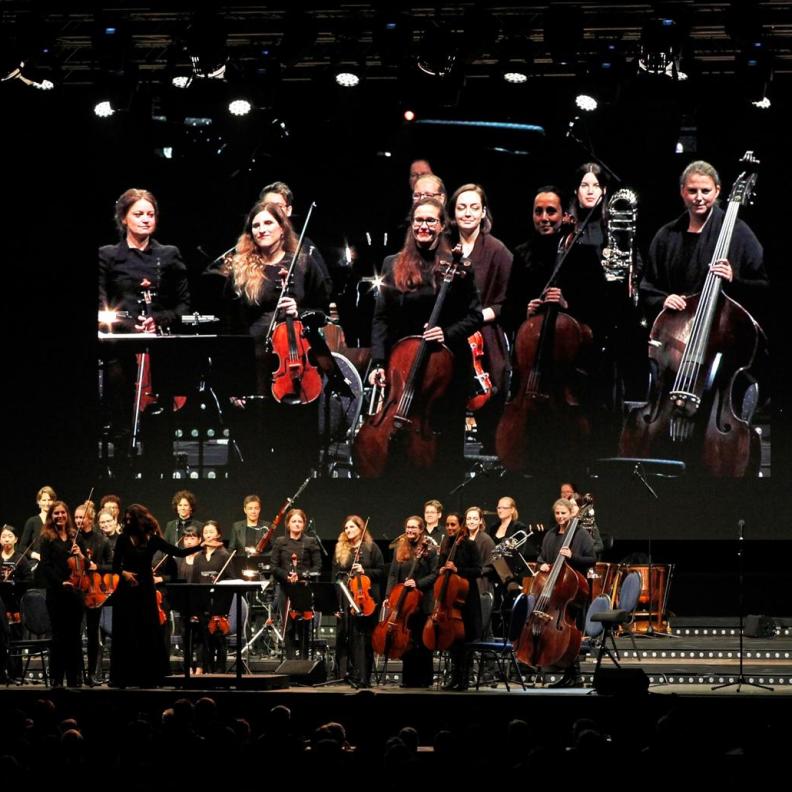 concept "female stage"
"When I was asked for this year's Festival of Lights concept of a "female stage" I was immediately enthusiastic, because in this way many wishes became true for me at once. For one thing the topic "women orchestra" is something that is deeply fascinating for me and that I've been thinking about since many years already. Surprisingly I made the experience that such a cast is often polarizing and initiating vehement debates, partially I even recognized strong rejection. In fact an orchestra consisting of all female musicians is nothing "normal" in the consciousness of the audience (and the musians, too!), a really miraculous discovery for me. That's one of the reasons why I look forward to performing at this year's Festival of Lights with an all female stage all the more!
And the female stage goes even further: Not only optically we will be concerned with women but also acustically. Therefore another dream of mine becomes reality. For some time I have tried to perform works by female composers on stage, but in the past there was always confronted to a strong rejection and even partially horrific prejudices about female composers. One of the most often arguments I heard was that, if the works were good, they would already be performed everywhere and people would know them. If this isn't the case and the pieces are unknown, this could only mean that the works aren't good. In my opinion an deceptive argument - until Mendelssohn discoverd the Bach passion this piece was completely forgotten. But who would be so presumptuous to claim that this work isn't good? That's why such assessment isn't consistent in my opinion and just a classical prejudice.
One more really popular prejudice is also that there don't exist a lot of compositions by female composers. This is completely wrong! I did some research and discoverd that there are 500 operas composed by women. And even more: symphonies, oratories and other works... there are existing works by female composers from all times and all counties - their number is dizzingly high. Unfortunately on the season programmes of the orchestras and opera houses you are looking for those works in vain. Since I've been dealing with the works by female composers intensely, I realized what great and breath-taking music is among those pieces, which really would deserve it to be played. It's really an affair of the heart for me to perform those wonderful music and so I'm more than happy that this year's Festival of Light I'll finally have the occasion to do so!"
Chefdirigentin Eva Meitner bei der Pressekonferenz am 29.8.18
Selection of works
"With the selection of works I wanted to ensure that multifacetted music was played, so that the audience can experience a comprehensive and diverse overview over female composers and their musical language. Another important criterion for me was the connection of the composers to the city of Leipzig. The result is an exciting collage with works from 5 female composers and 1 male composer. Ethel Smyth's music is strong, powerful, heroic and tempestuous, Fanny Hensel sparkling, vivid and courageous, Alice Mary Smith funny, cheerful and sensitive, Amy Beach dark, profound, intense and highly emotional, Susanne Hardt's music unexpected, artful, misleading and swinging, and Moritz Eggert's music disquieting and disturbing."
Chefdirigentin Eva Meitner auf der Pressekonferenz am 29.8.18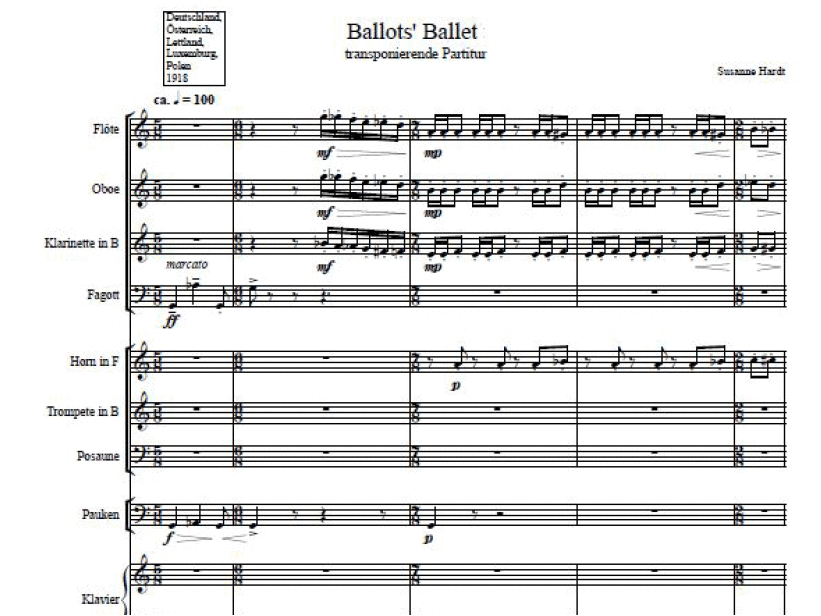 date in notes - "ballots' ballet" sets to music the history of womens' vote
"(...) The works were all written by female composers, one of them is the world premiere of Susanne Hardt's "ballots' ballet". The piece makes you hear and experience the history of the womens' vote in Europe.
The work was composed on behalf of 100 years womens' vote in Europe. It has a vivid and dance-like charakter and is full of a colourful and varied musical language. The date 1918 was the female vote introduction in most Europeen countries (Germany among them) and is the main theme of the composition. Translated in sounds you get a 4-tone-motive, that opens the piece. During the work the initial motive returns in many variations - always in form of other dates, where womens' vote was introduced in European countries (for example 1906 in Finnland or 1915 in Iceland). In the end the original motive returns and terminates energetically "ballots' ballet"."
(c) LTM 2018
http://www.lichtfest.leipziger-freiheit.de/news/urauffuehrung-susanne-hardt-komponiert-ballots-ballet-fuer-das-lichtfest-leipzig.html